It's been an exciting few months for the LBW Benefits Team!
It started with the addition of Betsy Keesler (2nd from left) who returned to LBW in February as an Account Executive. The agency is happy to have her, and her many years of experience, back.
Then, in March, Mikhaila Labick (far right) moved from the Admin Team to the Benefits Team. Her role is primarily adding and removing participants on clients' group policies.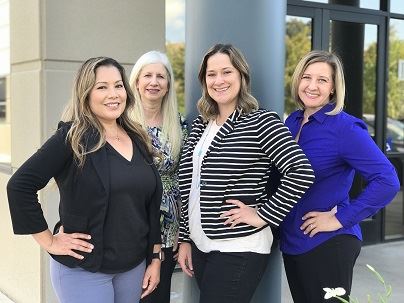 Jennifer Davidson (3rd from left) and Ana Chavez (far left) were next, coming aboard in March. They are both experienced Account Managers who have comprehensive experience with several of the enrollment, quoting, COBRA, and HR systems used at LBW. That's made it a very short learning curve. As they say, this duo "hit the ground running."
These new additions join existing team members Kevin Durkin, AIF®, VP of Employee Benefits and Qualified Plans, Michelle Santillan, Senior Account Manager, and Kristy Oatney, Senior Benefits Administrator.
"We've made great hires, both internal and external, in the last few months. This crew, together, has transformed the department and developed an excellent team dynamic. I'm very excited about the growth in the Employee Benefits area of our business right now," states Mitzi Like, LBW's President and CEO.